The RDO 1000 cabinet-type switchboard is intended to be used in concreted, bricked or other type of covered 10; 22; 35 / 0.4 kV distribution switching stations, for power output up to 630 kVA or 2 x 630 kVA. It is suitable for use everywhere where cabinet-type switchboards have to be used (e.g. places with public access). The switchboard is very mechanically rigid.
Technical data: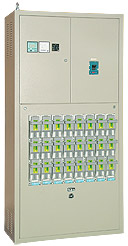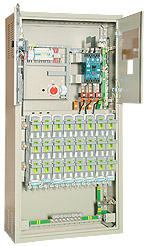 Voltage rating: 3 x 400 / 231 V, 50 Hz
Rated current: 1000 A (1600 A)
Short-circuit current strength: 35 kA
Protection against electric shock: by automatic disconnection from the power source
Protection degree: IP 20 / IP 00 (IP 40 / IP 00 also possible)
Surface treatment: powder technology, RAL 7032 shade
Technical description:
The RDO 1000 switchboard is installed in a cabinet which is one of the options of the screwed typified SR-I switchboard. Instruments, busbars and the earthing system are installed inside the cabinet.
Cabinet:
The basic structure (the frame) consists of two longitudinal frames (front and rear) and four corner cross-beams that are screwed together to form one unit. The frames consist of a special confined profiled and galvanized material. The doors and detachable covering panels are built into the profile which means that no other parts protrude from the final outer dimensions. The instruments are fixed to panels, to the structure and to the rails. The structural parts are treated with powder varnish and the rails are galvanized. The switchboard can be placed into a separate cabinet or placed side by side to form a line of cabinets. However, it is not possible to place a separate type of cabinet into a line without making some modifications that have to be agreed upon with the manufacturer in advance.