An integral part of the ESB Rozvaděče, a.s. production program is the manufacture of low current cabinet switchboards. Switchboards are intended for use in electricity mains, industrial objects, administrative centers and a wide range of other uses.
Technical description: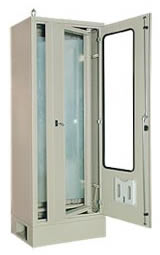 Nominal values
- up to 1000 V, 50 Hz, 2500 A and Ikm = 80 kA
- up to 1500 V and 3000 A
Dimensions of cabinets
Cabinet width: 400, 600, 800, 1000, 1200, (1400 mm),
Intermediate cabinet 200mm
Cabinet depth: 400, 500, 600, 800, (1000 mm)
Cabinet height: 2000, (1800, 2200 mm)
The measurements in brackets are not regular, priority is given to type values, but any other reasonable dimensions can be arranged on request.
Casing
Type: IP 20, IP 40, IP 54
Combination: IP 20/00, IP 40/00, IP 40/20, IP 54/00, IP 54/20
Surface treatment
The surface of the modular parts of the cabinet are treated with powder technology in RAL 7032 – grey, with a phosphate pre-treatment layer. The front and back frames are galvanized under paint. The instrument panel is made from galvanized sheet metal, the internal instrument bar and construction partitions are electroplated.
Description
The cabinet frame consists of front and back frame which are made from a special profiled welded material and four cross members screwed together to form one unit. The degree of required protection is ensured by the upper, rear and side covers (or also the bottom cover for IP 54) and the doors. The doors are closed using a three-point perch lock with a lift-bar-type door handle which can also be locked. The installed instruments can either be fixed to the instrument panel or to the horizontal rails that form the instrument frame along with vertical posts. Each cabinet is provided with suspension lugs (M16) to lift the cabinet using a crane. The cabinet dimensions are final, which means that none of the covers protrude from the frame profile. The switchboard frame is designed as a rigid product especially suitable for use in heavy-duty plants.