The RDR 1000 frame-type distribution switchboard features a simplified option of the RDO 1000 cabinet-type switchboard (Ref. separate catalogue), and intended for use in covered concrete or brick-made switching stations. It can be used there where the high protection degree of IP40 which normally can be achieved only by cabinet-type switchboards is not required and where a switchboard is to be installed the functions which correspond to the RDO 1000 system.
Technické údaje: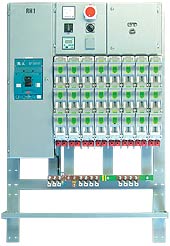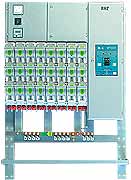 Rated voltage: 3 x 400 / 231 V; 50 Hz
Rated current: 1000 A
Short-circuit capacity: 35 kA
Protection against electric shock: by automatic disconnection from the power source
Protection degree: IP 20 from the front side
Surface finish: by powder painting
Surface treatment: powder technology
Technical description:
Switchboard RDR 1000 consists of a supporting frame, doors, casing and instruments.
Frame:
The switchboard frame consists of cross-members, webs and jibs (made of 3 mm steel sheet). The upper space of the frame, where auxiliary and measuring instruments are mounted, is covered with two-wing doors from the front side (made of 2 mm steel sheet), and with 1.5 mm steel sheet covers from the upper and side faces. The main circuit breaker and the infeed space are also covered with doors. Additionally, the frame is provided with webs facilitate handling and fastening of the frames to the wall.