The RST switchboards are specified by the PNE 35 71 49 branch specific standard. They serve as the main switchboards and can be connected to the LV side of distribution transformers.
Technical data: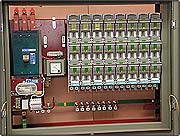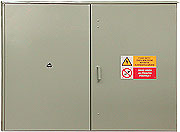 Rated voltage: 3 x 400 / 231 V; 50 Hz
Rated current: up to 400 A / up to 630 A / up to 1000 A
Short-circuit capacity: at least 20 kA / at least 20 kA / at least 35 kA
Busbar material: copper for typified products; aluminium on request
Protection against electric shock: by automatic disconnection from the power source
Protection degree: IP 00 – self-contained panel; IP 43 – cabinet type
Surface finish: panel (grid) painted with powder paint; cabinet of the ZK design: metallization + galvanization + powder varnishing for outdoor use; N cabinet: stainless steel, passivated
Technical description:
In its typical design the RST switchboard consists of an assembly panel (frame) fixed in a cabinet. The panel is normally equipped with the main protective element (circuit beaker or a fused switch disconnector), the system of busbars, protective elements at the outlet (fuses, fused switch disconnectors, fuse rails, circuit breakers), other equipment (231 V socket, light fittings, residual current circuit breaker, protective elements), lightning arresters, or measuring sets (according to the kind and manner of measurement: current instrument transformers and testing terminal boards + consumption meters, A-meter with dragged-on pointer for the measurement of consumption maximum, or a general-purpose meter to measure electrical quantities). A compensation capacitor and other equipment can also be installed on request. The cabinet itself serves as the protective cover to protect the instrument panel against the outside environmental impact (protection degree IP 43). The cabinet is modified to be secured to a supporting element (console, socle, stand, supports) or to be bricked in with entries for incoming and outgoing cables and a locking device using a padlock.